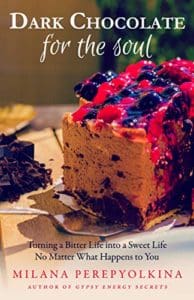 Dark Chocolate is available on Amazon.com Click Here To Buy Now
What happens when you eat a piece of chocolate? All the bitter things in your life suddenly go away. You are completely enticed by the sweet flavors melting in your mouth. So what if I told you there was a way you could do the same to all the problems in your life? A way to make them just melt away and be replaced by the sweet, blissful feeling of joy and happiness?
This book offers the solutions to a wide range of problems. From troubles in your early childhood to current struggles in your adult life. From sickness and injuries to the death of a loved one. From impatience, fears, emotional abuse, and scars to loneliness, physical danger, bad luck, and betrayal. With each problem, there is a way to turn that bitterness into something sweet. A way to overcome those obstacles that are keeping you from living the life you truly want to be living. All you have to do is start with the first bite.
From the bestselling author of Gypsy Energy Secrets: Turning a Bad Day into a Good Day No Matter What Life Throws at You comes the next insightful guide to helping you turn your life around for the better. With stories that draw you in and questions that stimulate self-reflection, each chapter shows you how to take any difficulty in your life and use it to your advantage. By the end of the book, you'll know how to turn any situation around for the better. It'll be as if you always have your personal supply of dark chocolate with you, ready to turn the bad days into something a little sweeter.